Birds sometimes enter through the chimney hole and end up in the hearth and then in the house. Sometimes they make a nest in the chimney itself or on the edges of your roof. They can also enter the attic or attic through air vents or soffits, and nest there.
OUR METHODS
No matter your situation, and no matter the type of bird (starling, pigeon or any other type of bird), our technicians will know how to catch it gently, and then set it free. Even if the bird capture must be done at height, our specialists have the necessary equipment to safely access where they are.
Our bird capture techniques are very simple. We are used to catching birds in all kinds of contexts and situations. We know their reactions and know how to approach them gently.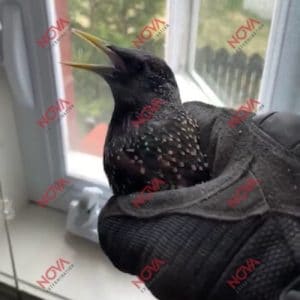 To capture birds, we first try to see if it would be possible to get the bird out naturally, through a window or a door. If necessary, we can use a net, which is very effective in catching birds.
Exterminating birds is prohibited and we are not allowed to do so, even if we are professional exterminators. We have to release them outside (with their eggs or young if we find a nest). The government is strict about this. However, there are a number of things we can do to prevent the bird (or birds) from returning to your home.
PREVENT THE BIRD'S RETURN
To prevent another bird entry through the chimney or into your attic, we can, if you wish, carry out various interventions to ensure that the possible entries are properly blocked:
– Put wire mesh on the chimneys;
– Repair soffits that allow birds to sneak into your attic;
– Replace the ventilation hatches;
– Caulk the holes and cracks that allow birds to enter your home.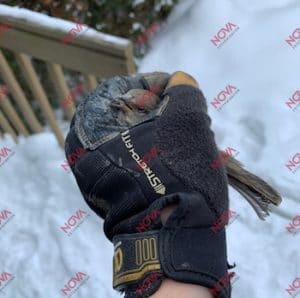 Nova Extermination has a license from the Régie du Bâtiment du Québec (RBQ: 5734-75930-01) as well as from the CNESST to carry out repair work on soffits, change of ventilation hatches, installation of grilles around chimneys. as well as caulking. Our company is also protected by liability insurance.